May your love grow in harmony like a beautiful garden....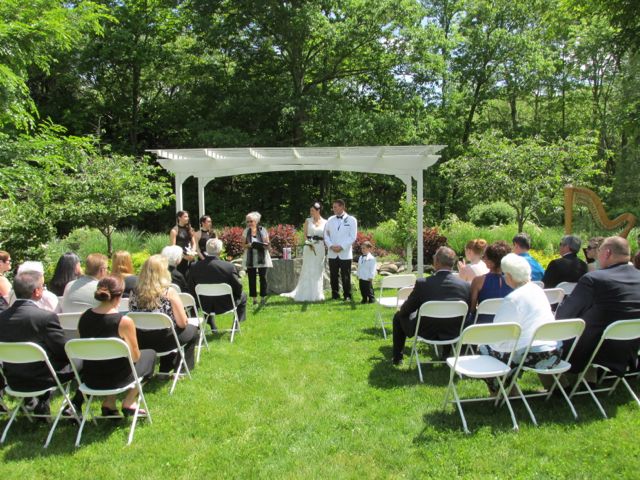 If you are looking for an intimate outdoor ceremony site, Harmony Gardens may be perfect for you. Harmony Gardens provides a peaceful and beautiful environment.
If your wedding is smaller, most resorts may not be a good fit. Or if it's just the two-of-you, you still deserve a charming setting for this important milestone in your life. Last minute? No problem!
From 2 to 50 people, Harmony Gardens can accommodate you beautifully. The fair price structure also (and importantly) includes Lois Heckman to officiate your ceremony!
The gardens consist of three grass circles, each surrounded by shrubs and flowers and connected by pathways. Three is symbolic representing wholeness, unity, and inclusion; and circles are a part of all human cultures and traditions.
The main circle features a large white arbor over the altar rock.
Whether you are having a reception or party at home, hall or restaurant, or simply going out for a meal to celebrate, you may be having difficulty finding the right location for your ceremony. Perhaps you plan a bigger event later.
It can be difficult to find an outdoor ceremony spot. This is why we created Harmony Gardens.
We have...
Two restrooms (handicap accessible) and an air-conditioned lounge directly across from the ceremony site
Electricity at site, and convenient parking.
Coming in 2015: Our new pavilon - next to the main ceremony circle - a beautiful covered space, perfect backup for rain or for a social hour, post-ceremony.
Eco-friendly (chemicals never used in our gardens, we're organic all the way… recycling and reusable approach is encouraged)
Pet friendly, too! Let's talk about that.
Please contact us for exact driving directions - DO NOT RELY ON GPS
We highly recommend Garth Woods for photography here at Harmony Gardens.
In Saylorsburg, PA – the foothills of the Pocono Mountains
1 ½ hours from New York City and 1 ½ hours from Philadelphia45 minutes from Allentown and Scranton