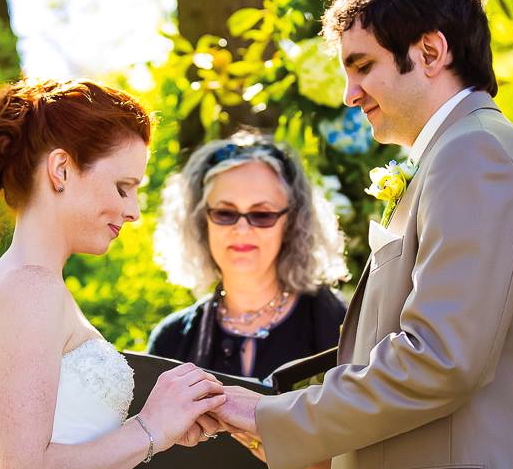 Your wedding day is one of the most important days of your life, and the ceremony is the heart and soul. You deserve a wedding officiant who has the skill to express what it truly means for you.
Your ceremony can, and should be, an honest reflection of your world view, your taste and style and of course your love. I am a professional officiant and I will create and clearly perform a unique, personalized ceremony - for you, your family and guests.
We can be as creative, formal, or informal, as you wish. I am an especially good choice to officiate for secular, interfaith, multi-cultural, and spiritual couples, giving you the opportunity to have your traditions and world view accurately respected. I am an especially good choice if you are looking for something NON-TRADITIONAL.
I am open to your path and will find the balance that may be needed to accommodate you and your families.
I will listen to you and make lots of suggestions - and in the end, we will have the perfect ceremony. I am comfortable, sensitive and aware of the diverse needs of today's families.
When you work with me you have unlimited consultation and final approval of every word. What a great feelling to know your ceremony is exactly right for you! And because you know what the ceremony is all about, you will be more relaxed and 'in the moment,' as you exchange your vows.
Here's an article about wedding vows you may enjoy, recently published in Local Flair Magazine.
Here's an article by me written for the beautiful Stroudsmoor Country Inn.
WHERE ARE YOU GETTING MARRIED?
I officiate in the Pocono Mountains of Pennsylvania, at all of the area's finest venues - Skytop Lodge, Shawnee Inn, Mountain Springs Lake, Stroudsmoor Country Inn, Pocono Manor, as well as private homes, B&B's and other interesting locations in and around the Poconos, as well as the Lehigh Valley, Scranton, Milford, Northern NJ.... and at my own lovely outdoor ceremony site: Harmony Gardens!
I ALSO SPECIALIZE IN ELOPEMENTS.