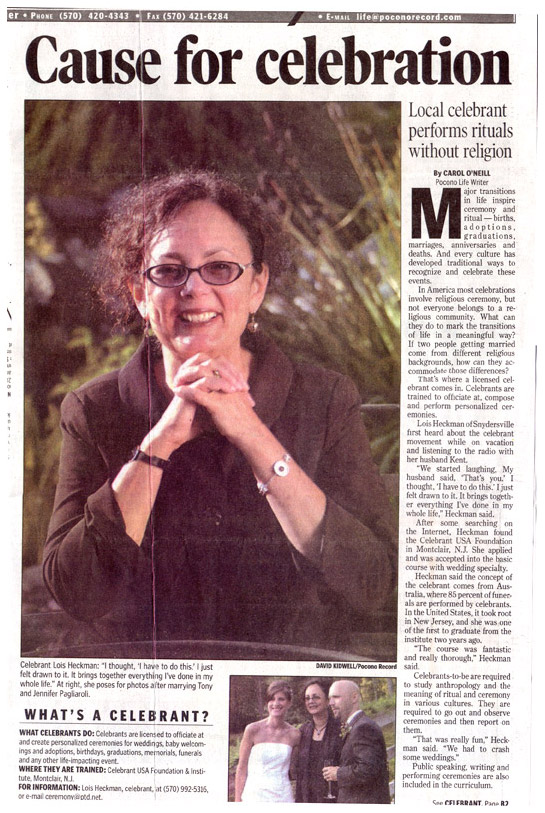 As a celebrant, I have the training and experience to write and perform weddings, and other ceremonies for all the significant, transitional times in our lives.
What is a celebrant?
Celebrants are trained to officiate personalized ceremonies. I studied at the Celebrant USA Foundation - an international leader in this field. I now teach Celebrancy at the Celebrant Academy. The celebrant movement is growing as the need for unique and non-religious weddings grows.

Why choose a celebrant?
If your ceremony is important to you, a celebrant has the skill and takes the time to understand your beliefs and values and officiate the ceremony with clarity and meaning. A celebrant also considers all the needs of the family and guests, and most of all, makes sure that your ceremony is a true reflection of who you are, and what it all means to you.
How does it work?
Please contact me by phone or email and let's see if we're a 'fit.' I would love to meet with you, if practical, and explore the possibilities for your ceremony. At that time I will give you a packet of materials full of ideas, information, and examples of my work. There is no obligation whatsoever. If you decide you would like to work with me, we'll go from there!
If you live out of town, but are having your wedding in the Poconos, I can also accommodate you; I have worked with couples from all over the country, and indeed, around the world. It all came together beautifully. If it's right, we'll make it work.